Popular Silver Coins & How Much They're Worth
Gold Investing - May 27, 2021
Note: This article was written when the price of silver was $26.85/ounce. You can view the current price of silver at silverprice.org. The price we pay fluctuates based on the price of silver and market conditions, so the amounts stated in this article are unlikely to be current.
When you think of coins serving as legal tender, it's understandable that your mind goes to gold first. And we have a post about popular gold coins too! However, silver coins are possibly the oldest mass-produced form of coinage, and they've been used for a very long time. In the times of the Ancient Greeks, silver drachmas were popular trade coins. Ancient Persians, too, used silver coins. In much more 'recent' history, British pennies were made of silver up until 1797.
There are a number of reasons why silver made for a good metal for coins. It's liquid, easily transportable, and much like gold,  it has a high value to weight ratio. It can also be easily divided into small units without destroying its value, as it can easily be melted down or into bars. More importantly, silver is not nearly as valuable as gold, which made it a much more practical and attractive option for day-to-day transactions.
Today, silver coins aren't used in circulation as legal tender. However, they do still serve as objects of great interest for numismatists and coin collectors. Their value depends on a variety of factors, including but not limited to its rarity, demand, condition and the number originally minted. Collectors go after both ancient silver coins, like the Denarius and Miliarense and more recent coins, like the Morgan Dollar and the Spanish Milled Dollar.
Due to the rise in silver prices over the past decade, the value of the silver content frequently surpasses the traditional collectible value. For that reason, the current price of silver typically sets the market rate for most silver coins.
At Express Gold Cash, we pay 90% of the market value for silver bullion and silver coins. Read more about silver coins that we buy and how much we pay.
Seeing as how silver coins are collectible, it's no surprise that anyone who wants to take part in the hobby, or as an investment, wants to have a good idea of the value of popular silver coins. In this article, we'll look into some of the more popular silver coins and their worth.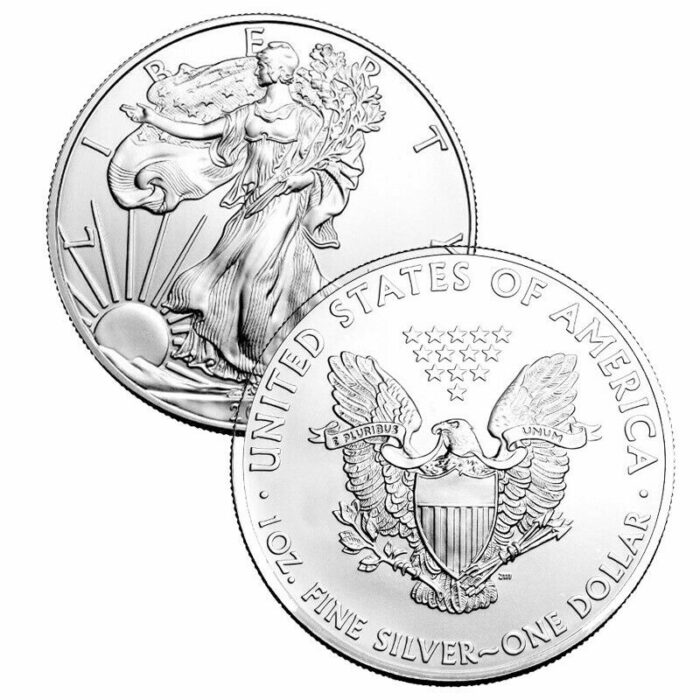 1) American Eagles coins
The American Silver Eagle is the official silver bullion coin of the United States, much like its gold counterpart. First released by the United States Mint on November 24, 1986, the design of the coin features the 'Walking Liberty' design on the front along with the words "LIBERTY" and "IN GOD WE TRUST", while on the back the coin features a heraldic eagle with shield and thirteen five-pointed stars. Interestingly, the American Silver Eagle bullion coin may be used to fund Individual Retirement Account investments.
Unlike the Gold Eagles, the American Silver Eagles are only struck in the one-troy ounce size. These coins have a nominal face value of one dollar and are guaranteed to contain one troy ounce of 99.9% pure silver.
Based on a market price of  $26.85, the one troy ounce American Silver Eagle will net you $24.15 (at EGC, we pay 90% of the market price for silver bullion.)

2) America The Beautiful coins
The America the Beautiful silver bullion coins are a series of silver coins with a face value of a quarter, mirroring the face value of the original coin from which their design is duplicated — America the Beautiful quarters. These coins have been issued since 2010, and all coins in the series feature a common front design which depicts George Washington in a restored version of the portrait created by John Flanagan for the 1932 Washington quarter, while the reverse feature five individual designs for each year of the program, each of which depict a national park or national site (one from each state, the federal district, and each territory). 
Containing five troy ounces of silver, America the Beautiful bullion coins are the largest silver bullion coins ever issued by the United States Mint. Much larger than the original America the Beautiful coins, these bullion coins weigh 155.5 g (5.00 troy oz) and have a diameter of 76.2 mm (3 in) and a thickness of 3.25 mm (0.128 in).
At 5 troy ounces, one America the Beautiful coin is worth $134.25. If you are selling it to Express Gold Cash, you will get $120.82.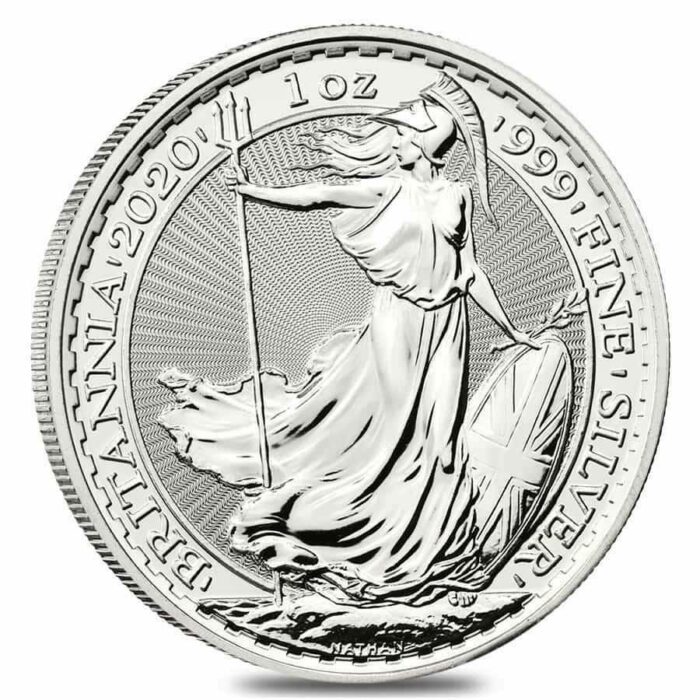 3) Britannia coins
Silver Britannia coins are British bullion coins issued by the Royal Mint since 1997. Britannia coins, also available in gold (since 1987) and platinum (since 2018), feature various depictions of Britannia, a feminine personification of the United Kingdom on their reverse side. On the front of the coins, Queen Elizabeth is featured in profile. Starting in 2013, the proof versions of the silver Brittania feature a different design each year, while the bullion version of the coin will always feature the classic standing Britannia.
Britannia silver coins contain one troy ounce of silver and have a face value of £2. They are also issued in fractional sizes of one-half, one-quarter, and one-tenth of a troy ounce and with face values of £1, 50p, and 20p, respectively. In 2013, two additional sizes were introduced, a five-ounce coin of face value £10, and a fractional size of one-twentieth of face value 10p. 
Selling your Brittania coins will net you the following amounts, per size:
1/20 ounce will get you $1.20.
1 ounce will get you $24.15.
5 ounces will get you $120.82.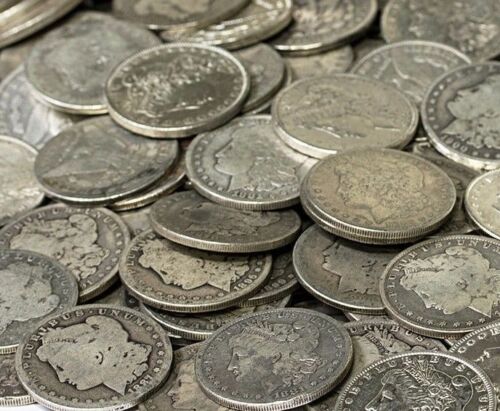 4) Morgan dollars
Unlike most entries on this list, Morgan dollars are not regularly minted. They were originally minted from 1878 to 1904, then in 1921, and in 2021. Morgan dollars are named after their designer, United States Mint Assistant Engraver George T. Morgan. The coin depicts a profile portrait representing Liberty, modeled by Anna Willess Williams on the front, while on the back, it features an eagle with wings outstretched. The mint mark, if present, appears on the reverse above the "o" in "Dollar".
This coin, with a face value of 1 dollar is made up of 90% silver and 10% copper.
Morgan dollars contain about 0.7734 ounces of silver (worth about $20.76), so if you are selling to EGC, one Morgan dollar will get you $18.68.
It's important to note that many older Morgan dollars can be highly collectible. This is the exception, not the rule, but it's smart to check the dates and mintage before selling your coins. If you sell to us, we'll check them for you and pay you based on rarity if it's relevant, but not all dealers may be as generous.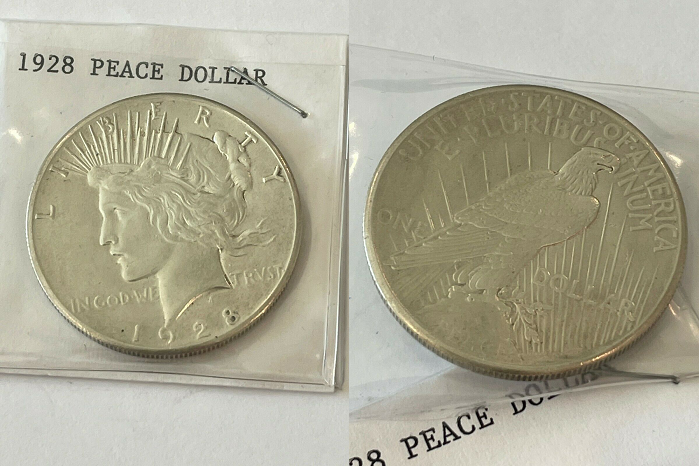 5) Peace dollars
Much like the Morgan dollars, Peace dollars are also limited issue coins. They were minted from 1921 to 1928, in 1934 and 1935, and as a commemorative in 2021. The coin came about as the result of a competition to find designs that represented peace, with the final coin being designed by Anthony de Francisci. On the front of the coin, there is a depiction of the head and neck of the Goddess of Liberty in profile, and the reverse depicts a bald eagle at rest clutching an olive branch, with the legend "Peace". Interestingly, the Peace dollar was the last United States dollar coin to be struck for circulation in silver.
Much like the Morgan dollar, the Peace dollar has a face value of $1 and is made up of 90% silver and 10% copper. The 2021 commemorative versions of the Morgan dollar and the Peace dollar are the result of legislation to mark the centennial of the transition between the two designs.
Pretty much exactly the same as a Morgan dollar, Peace dollars also contain about 0.7734 ounces of silver (worth about $20.76), so if you are selling to EGC, one of these will get you $18.68.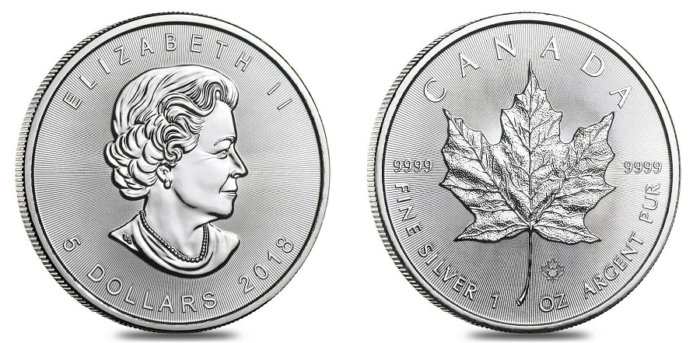 6) Canadian Maple Leaf coins
Produced by the Royal Canadian Mint, the Canadian Silver Maple Leaf is a silver bullion coin that is issued annually by the Government of Canada. Much like it's gold counterpart, this coin features the Canadian Maple leaf on it's reverse display and on the front, a generously youthful Queen Elizabeth II.
With a face value of $5 Canadian dollars, Canadian Silver Maple leaf coins are considered legal tender, though the market value of the metal varies, depending on the spot price of silver. Canadian Silver Maple Leaf 99.99% silver content makes the coin among the finest official bullion coins worldwide. The standard version has a weight of 1 troy ounce (31.10 grams).
Based on a market price of $26.85, when you sell a one troy ounce Canadian Maple Leaf to EGC, you will receive $24.15.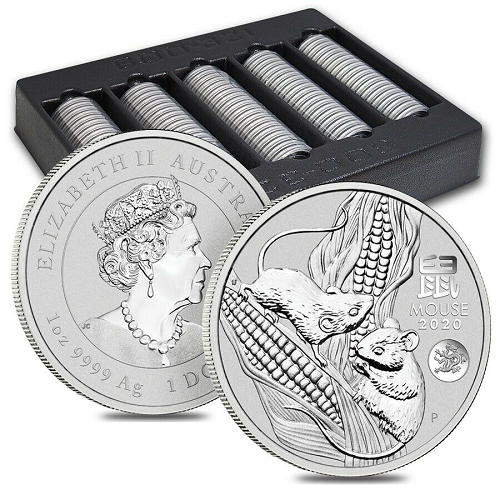 7) Australian Silver Lunar coins
One of the few rare silver coins that change their design every year, Australian Lunar silver coins feature designs based on the Chinese Lunar calendar. Each year, the coin features a different animal based on the Chinese Lunar calendar. In 2021, these coins feature the Ox. Their unique, yearly designs make these coins a highly sought after collectible for numismatists and collectors worldwide.
These silver coins are available in ½ ounce, 1 ounce, and 2 ounce versions and are guaranteed to contain 99.99% pure silver. The coins are also legal tender in Australia and include their face values in the coin itself. In 2021, The Perth Mint also released a special, 1 kilogram, silver plus gold version of the coin.
½ ounce will get you $12.07.
1 ounce will get you $24.15.
2 ounces will get you $48.30.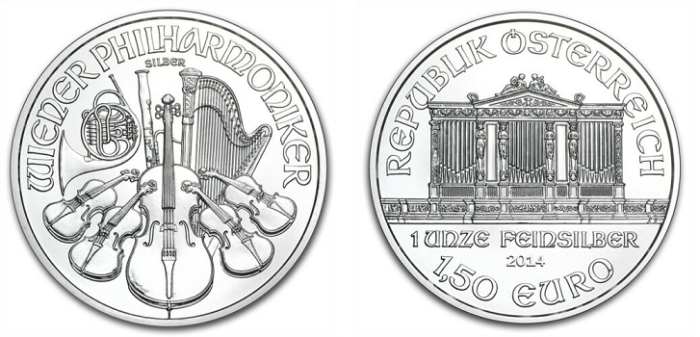 8) Vienna Philharmonic coins
Named for and inspired by the Vienna Philharmonic orchestra, the Vienna Philharmonic silver coins are produced by the Austrian Mint. These coins  feature the pipe organ in the Vienna Musikverein's Golden Hall on its front side and orchestra instruments of the Vienna Philharmonic including Vienna horn, bassoon, harp, and four violins centered on a cello.
While Vienna Philharmonic gold coins come in a variety of denominations and sizes, silver coins are only available in one size: 1 troy ounce. It is also the only silver coin that is denominated in euros, with a legal tender value of €1.5. They are made of 99.9% silver and have been minted since 2008. The Vienna Philharmonic silver coin also has the honor of being one of the top-selling silver bullion coins in the world.
Selling a Vienna Philharmonic coin to EGC will get you a $24.15, as the coin is only available in the one troy ounce size.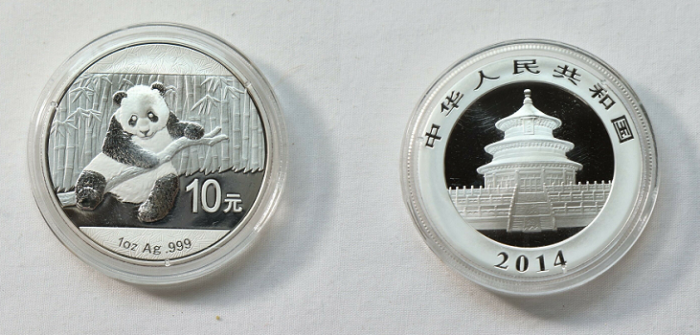 9) Chinese Panda coins
The Chinese Silver Panda is yet another silver coin that's one of the few that change their design annually. The first Silver Panda coins were issued in 1983, 1984, and 1985. On its front side, the coin shows an image of the Temple of Heaven, which has been unchanged since 1982; however, on the back, the coin features changing designs of giant pandas (except 2001 and 2002 which shared the same image).
These coins are minted in different sizes and denominations, ranging from 1⁄4 to 12 troy ounces. However, the Chinese Silver Pandas switched to metric sizes in 2016. The 1 troy ounce coin was reduced to 30 grams, while the 5 troy ounce coin was reduced to 150 grams. These 99% silver coins are available in many sizes, though 30 grams and 150 grams are the most common.
30 grams (worth $25.89) can be sold for $23.30.
150 grams (worth $129.48) can be sold for $116.54.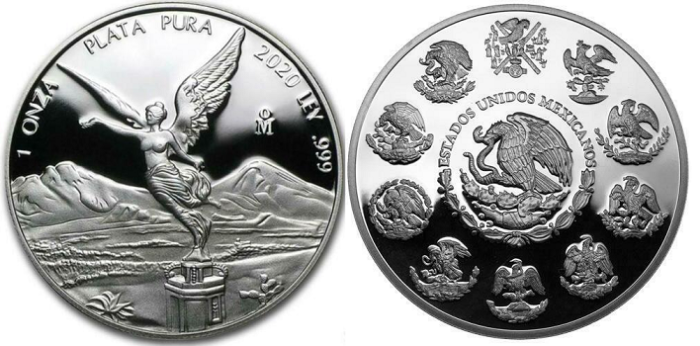 10) Mexican Libertads
The La Casa de Moneda de México (Mexican Mint) is responsible for issuing the silver Mexican Libertads. These coins all share the same design on the front side: the Mexican Coat of Arms, a golden eagle eating a rattlesnake while perched on a cactus. On the reverse of the coin, there is a design from the Centenario (a gold bullion coin minted to celebrate Mexico's independence from Spain), the Angel of Independence in front with the volcanoes Popocatépetl and Iztaccihuatl in the background.
Mexican Libertads have not changed their size since they were first minted.  However, their fineness has changed. The silver Libertads all contain 99.9% silver. Libertads are available in denominations of 1/20 troy ounce, 1/10 troy ounce, 1/4 troy ounce, 1/2 troy ounce, 1 troy ounce, 5 troy ounces, and 32.5 troy ounces. They do not have a face value, but are legally accepted tender in Mexico based on their metal value.
1/20 ounce will get you $1.20.
1/10 ounce will get you $2.40.
¼ ounce will get you $6.04.
½ ounce will get you $12.07.
1 ounce will get you $24.15.
5 ounces will get you $120.82.
32.5 ounces will get you $785.36.
Collecting And Selling Silver Coins
Silver coins are bought and sold for a number of different reasons, ranging from investments to trading. While coin collectors around the world trade in silver coins all the time, it's not quite the same to do it as a relative newcomer. As such, it's important to be careful and selective.
If you have any silver coins and are thinking of selling them, selling to Express Gold Cash ensures that you are given a fair deal. We buy everything from extremely rare coins to foreign currency and more and we pay 90% of silver bullion value for coins. For example:
The 1 ounce American Eagle coin, which is worth $26.85, will get you $24.15.
The 5 troy ounce America the Beautiful bullion coin, worth $134.25, will get you $120.82.
We understand that selling your silver coins can be a sensitive process, so we offer free valuations and a Satisfaction Guarantee. Feel free to get in touch with us via phone (877-465-3165) or email (support@expressgoldcash.com) for any questions or concerns about selling your gold coins or simple request a free appraisal kit to get started.